IBR Boiler Tube Manufacturer
High quality IBR Boiler Tube, check IBR Boiler Tube latest price list of 2017
Looking For IBR Boiler Tube With Customized Length? Our Standard Sizes Are Usually 3m And 6m In Length, But We Also Provide Additional Cutting Service
Citizen Pipes is India's largest independent multi-metals pipe & tube supplier & stockholder. Our range covers IBR Boiler Tube, mild steel, stainless steel, cold drawn, structural, tubular, galvanized tubes, pipe, black pipe, and welded tube and pipe.
Widely regarded as being the leading supplier of IBR Boiler Tube in India, Citizen Pipes is the preferred choice for IBR Boiler Tube in India, South & west Africa & Gulf countries.
Are you looking for stock of IBR Boiler Tube?
Citizen Pipes is now offering IBR Boiler Tube largest stock in Mumbai, India
Citizen Pipes is a India based Stockholder of Pipe, Tube & Tubing of multiple Origins – Our stock Materials are from China, India, Malaysia and Western European Origins.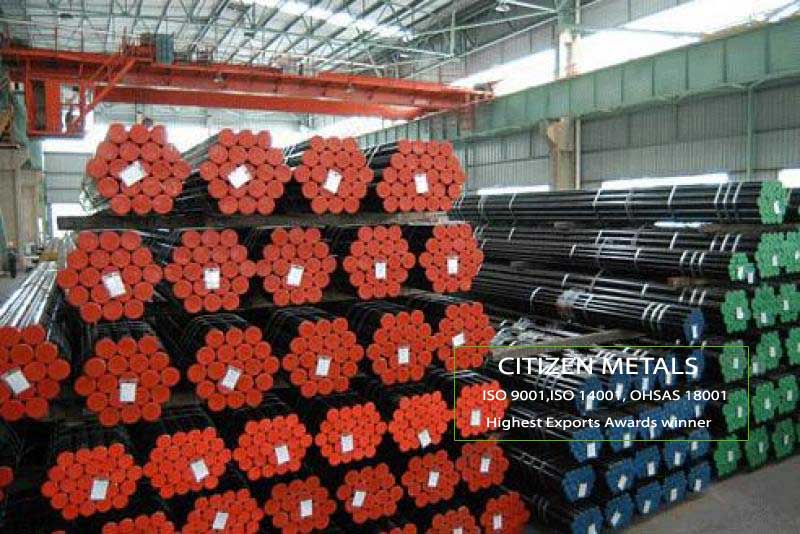 IBR Boiler Tube
IBR Boiler Tubes Specification
The Tubes SBU of Citizen Metal caters to the requirements of the Boiler Industry through its 2inch, 3inch and 4inch Precision Tube Mills. The state of art 4 inch mill supplied by OTO Mills, Italy and a fully automated draw bench supplied by BULTMANN, Germany, enable the supply of an extensive range of boiler and heat exchanger tubes.
Strength of Citizen Metal Precision Boiler Tubes
Weld quality
In house raw material with typical high fatigue strength properties
High strength tubes with high ductility
ERW / CEW Tubes with low tolerances on OD and thickness
Applications
Steam Generating Boiler
Heat Exchanger
Air Preheater Unit
Attributes
Weld quality
Bendability and Ductility
Clean Steel
Uniform Grain Structure
IBR Self Certification
Why choose Citizen Metal to buy welded ERW / CEW Boiler Pipes over Seamless Pipes
Lower delivery lead time – gets your project on track faster
All mechanical and chemical properties equivalent to ASTM A106 Grade B
Greater customization options in terms of OD and Thickness
Excellent dimensional tolerances
Hydraulic testing at 2500 psi / 2800 psi in line with ASTM A106 Grade B
| | |
| --- | --- |
| Length | Typical commercial lengths between 4 to 8 meters. Customized lengths available on request. |
| Straightness | 1 in 600 in case of ERW/CEW |
| End Finish | Plain end, mill finish. |
| Test Certificate | IBR Test Certificate/Works Test Certificate. |
| Packing | Tubes supplied in bundles with metallic straps and stickers with product details for easy identification. Need based packing requirements.provided on request. |
| Weld Test | Hydraulic testing and non –destructive testing according to specifications and mutual agreement. |
General Specifications & Tolerances
Extracts from BS: 3059-1987 1990
Specification
Grade

Rm

N/mn2

Re

N/mn2

A%

Drift Expansion Test

increase in D as %

Chemical Composition

Tolerance

d/D as Ratio
C %
Si %
Mn %
P & S %
>0.6
Outside Diameter
Thickness
Min.
Max.
Min.
Min.
<0.6
<0.8
>0.8
Min
Max.
Min
Max.
Min
Max.

BS: 3059

Part 1/1987

Steel

320

320
480
195
25
-
0.16
-
0.35
0.30
0.70
-

ERW +/- 0.75% with a minimum of +/- 0.30 mm CEW +/- 0.5% with a minimum of +/- 10mm

U.T.I 3.2mm +/- 10% and over 3.2mm +/- 7.5%

BS: 3059

Part 2/1990

Steel

360

360
500
235
24
12
15
19
-
0.17
0.10
0.35
0.40
0.80
.035
ERW same as Part 1 for ERW 2 Class 2 CEW same as Part 1 of 1987
+/- 10% (excluding) welding area Same as Part 1 of 1987
Packaging & Shipping
Utmost care is taken towards Packing of the finished products so as to ensure that the resultant Coils, Foils, Tubes ,Pipes and Fittings reach in the same condition as desired by our valued customers.
Packing specifications for various products are:
Larger Dia Fusion Welded Pipes are packed with aluminium end caps in a wooden crates.
S.S. Automotive Exhaust Pipes & Scheduled pipes both are packed with plastic end caps in wooden crates.
Cold Drawn Seamless Stainless Tubes are packed with plastic end caps in a wooden box with an inside thermocoal covering.
Coils and Foils are packed in wooden crates.
| | |
| --- | --- |
| Packed IBR Boiler Tube | Packed IBR Boiler Tube |

Other Packaging information:
Bundle Packing
Bundle Packing
Wooden Case
Wooden Case
Wooden Case for U Tubes
Reinforced by angle bar
Why us?
Stainless Steel Seamless Pipes & Tubes Manufacturer since 1996
The annual capacity of the plant equals about 12.000 tons
Specialized in Pipes & Tubes, Stainless Steel Pipe & Carbon Steel Pipe
We export seamless tubes / welded tubes everywhere in the world
We have our own warehouse of 10,000 feet, so we can offer best price in the market
Supplier and trader of IBR Materials like IBR approved Pipes, IBR Certified Tubes
Heilights:
Pipes up to 24" made in continuous production from coil
Pipes up to 80" made from single plates
Maximum thickness 40 mm
Strength
Contacts with major mills & stockists around the world.
Can offer ex-stock materials as well as mill delivery with nominal margins.
Complete in-house testing facilities viz. hydro, eddy current, UT, chemical analysis,
physical/mechanical, PMI, microscopic examination, etc…
Prime and genuine materials with co-relating original test certificates.

Available Stock at Citizen Pipes
Pipes & Tubes Stock At a Glance:-

Pipe Gradewise Stock At a Glance:-

Tube Gradewise Stock At a Glance:-
Nickel Alloys Pipes & Tubes Stock At a Glance:-
Top Sellers Pipes & Tubes At a Glance:-
List of Countries where Citizen Metal supply Pipes & Tubes:-


List of Countries where Citizen Metal supply Pipes / Tubes :-